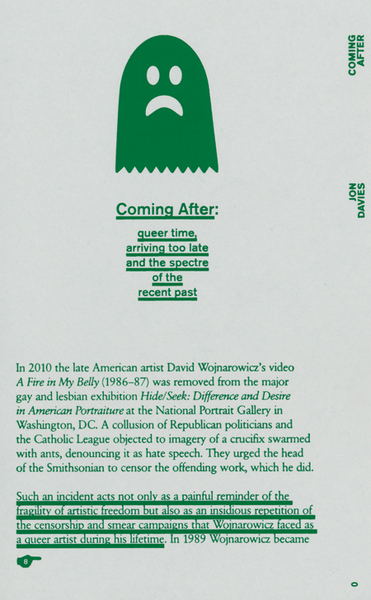 Coming After, 2012
Published by The Power Plant. Designed by Sameer Farooq of New Ink. The Coming After publication includes a curatorial essay by Jon Davies, with original illustrations by Logan MacDonald. The essay threads throughout the book, interrupted by two texts: the transcript of a 2009 keynote lecture by artist Sharon Hayes, and a new short essay by artist Zoe Leonard.
Coming After is a response to the recent renewal of interest in the period from the mid-1980s to the early 1990s that was decisive for North American cultural politics. This time period witnessed the Culture War, the birth of "queer" as an identity and theory, and the rise of a direct-action AIDS activist movement - epitomized by ACT UP - fighting a new plague that was devastating communities of artists, queers and people of colour. While these years were highly traumatic, they also represented a galvanizing, dynamic moment for queer citizenship - one that is arguably haunting our present and our future. This exhibition does not focus on those artists who were, as artist Christian Holstad succinctly put it, "burying their dead" at that time, but instead those who grew up in the shadow of the crisis, whether by fate or by choice. Their work evidences a sense of having come after or missed out on something. The potential represented by both very recent and more faraway radical (queer) historical moments is both an open wound and a fount of inspiration. What was lost along the way from then to now?
Softcover, 124 pages
purchase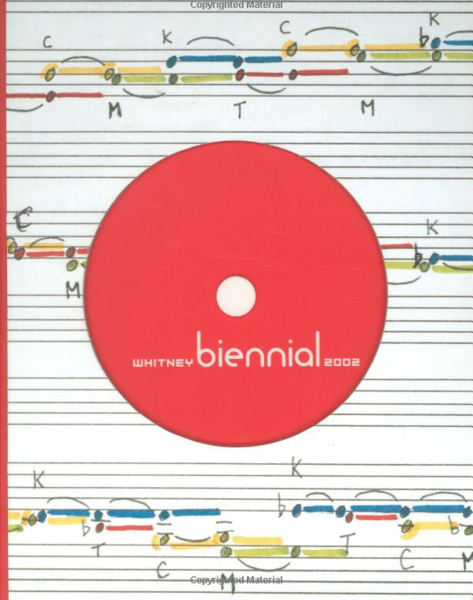 Whitney Biennial 2002, 2002
Published by the Whitney Museum of American Art on the occasion of the 2002 Whitney Biennial. Includes an audio CD with music and sound pieces from the exhibition.
Hardcover, 292 pages
10 x 8 x 1.2 inches