Sable Elyse Smith
CONDO
greengrassi and Corvi-Mora, London, UK
January 13 - February 10, 2018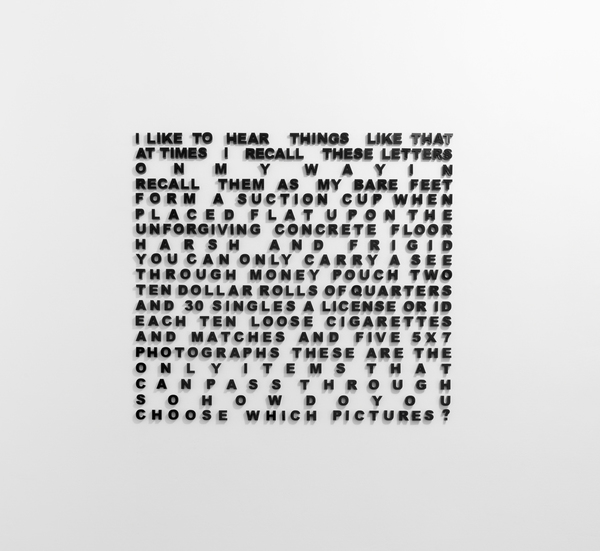 JTT, New York is pleased to present an installation of work by Sable Elyse Smith at greengrassi and Corvi-Mora, as part of CONDO 2018. Smith (b. 1986, Los Angeles) is a writer and artist based in New York. Smith's practice calls attention to confining structures in society and the often invisible ways in which they shape our minds or direct our bodies. Two particular focal points for Smith are the institution of language and, more personally, the incarceration of her father and her experience of visiting him in prison. On view at greengrassi will be two single channel videos which masterfully combine found footage, music clips, and video of her father to create two very moving visual poems of sorts. These videos are concurrently on view at the Queens Museum, New York as part of her first institutional solo show. Also on view will be a text piece, comprising individually cut acrylic letters aligned to fit within the shape of a square on the wall. Written by Smith, the text enumerates the personal items one is allowed when visiting a loved one in prison.
In 2018, Smith will be an Artist-in Residence at the Studio Museum in Harlem, and will present her second institutional solo exhibition at the Atlanta Contemporary in Atlanta, GA. Recent solo exhibitions include Ordinary Violence at the Queens Museum, New York and and then the street lights - like a warning bell at Recess, Brooklyn. Her work has been included in numerous group exhibitions, including at the New Museum, the Studio Museum in Harlem, Socrates Sculpture Park, El Museo Del Barrio, Signal, and Andrea Rosen Gallery. She has performed at the Museum of Modern Art, the New Museum, Eyebeam, and Yerba Buena Center for the Arts. Her work has also been screened at Birkbeck Cinema in collaboration with the Serpentine Galleries, Artist Television Access in San Francisco, and MoMA Ps1. Her writing has been published in Radical Teacher, Selfish, Studio Magazine and with Recess Art's Critical Writing Fellowship. Smith has received grants & fellowships from the Rema Hort Mann Foundation, Creative Capital, the Queens Museum, Skowhegan School of Painting and Sculpture, the Franklin Furnace Fund, and Art Matters.