Borna Sammak
Hey, You're Part of It
April 29 -  June 17, 2018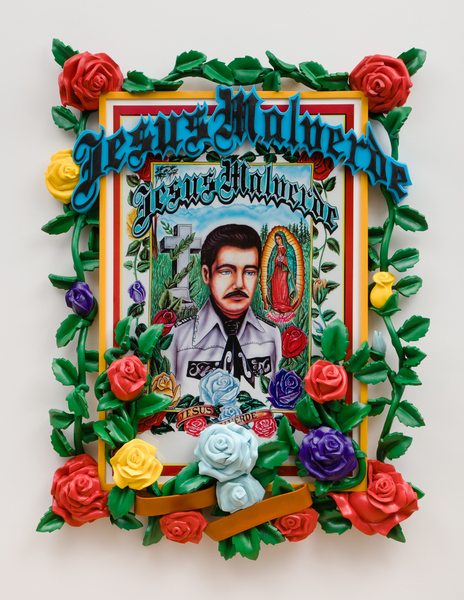 JTT is pleased to announce Hey, You're Part of It, Borna Sammak's third solo show with the gallery, on view April 29 through June 17, 2018. This most recent exhibition is a tribute to five objects that Sammak has bought and kept around him for a number of years: a couch, a poster, a pair of flip flops, a shark towel and a book. Each work on view details with great care the color, shape and form to these objects that only years of staring at them could result in. For Sammak, the mundane has always been an arena for confoundment, and this show is no exception.
In previous work Sammak has remade objects that already exist in the same exact method that they are made, but with slight alterations to their final form. Similarly, Not Yet Titled (Couch) adopts the substance and surface of a conventional couch, down to the jute beneath the cushions and Ralph Lauren striped fabric, only it is duplicated on itself, pulling its surfaces into prismatic compositions. The resulting object evokes dazzle ship camouflage—the eye-bending optical patterns that were once used to distort the shapes and positions of warships. Throughout Sammak's work there is a continued interest in camouflage as a method to blend foreground and background and to create movement within a composition. However, camouflage as a concept is also a clever tactic in avoiding negotiations around visibility. The ricocheting form of the couch is inspired by Wharton Esherick's 1931 Fischer Corner desk, which cascades out of a corner in a duplicitous fashion. Esherick's desk has so many angles that it hardly leaves room to lay much out. In the same manner, Sammak's couch has focused a few three person couches into one truly enjoyable place to sit.
The main seat of the couch faces Frame For a Poster, an embellishment of a classic Jesús Malverde poster that Sammak found in South Brooklyn and has kept in his studio for many years. The word "frame" implies both an actual picture frame and a compositional device that is employed within the poster itself. The poster features a troubled Malverde surrounded by roses and bright green leaves. The three dimensional frame mimics every detail of the poster in chunky of epoxy—the roses are heftier, the blades along the edges of the leaves are accentuated. Jesús Malverde is a folk saint, though his life can not be verified. It is said that he grew up under the rule of the Mexican technocratic dictator Porfirio Diaz, who served seven terms as President of Mexico — a total of three and a half decades. Diaz's economic policies benefited only a few wealthy estate-owners and his circle of ally foreign investors. According to legend, Malverde became a bandit after the death of his parents, which he attributed to their poverty. His Batman-esque orphan rage manifests itself in Robin Hood-like deeds that involve stealing from the rich and giving to the poor. He eventually was nicknamed "Malverde" or "bad green" by his victims who came to equate their acquisition of wealth to misfortune so long as their paths' crossed his. That Malverde is a saint, or his sanctity itself isn't what makes him unique, so much as the fact that he is a modern one. Thus, the trajectory of his path from high sanctity to commodification is traceable within a recent and short period of time.
Cool Road to the Beach presents a pair of beach flip flops that are a larger-than-life version of a pair that Sammak found in a deli in Los Angeles years ago. Sammak's version is a set of shaped, slotted-together canvases with heat applied vinyl along its surface true to the original flip flops that were shapes pressed into a foam rectangle but not yet popped out of the material. This 'one size fits all' design is infinitely repeatable and unchanging. Correspondingly, the cliched title of the work implies a kind of pre-packaged, commoditized view; a humdrum feeling about any given life experience, or all life experiences.
Sammak also employs the strategy of enlargement in What Do People Do All Day, a giant version of the popular didactic children's book by Richard Scarry. The surface of the book is painted with enamel turning the title of the book into an ominous, existential sign. The cartoon design of the original book cover remains discernible as a faint facsimile, painted in the same yellow pigment across the surface of the work.
Not Yet Titled, 2018 is both a large shark infested pool and an experiment in painting. By layering embroidery and vinyl, Sammak attempts to create a depth of field in certain areas and flattening in others and points again to his interest in camouflage. In the lower right hand corner is a cargo pocket that is inspired by a pair of camo shorts Sammak wore as a teenager. In a sense, cargo pockets and camouflage are two contrasting formal qualities. Camouflage is designed to dissolve a figure into a backdrop whereas a pocket does the exact opposite, it creates a figure from the backdrop. In this way, Sammak uses the stuff of everyday clothing to articulate some of the dialectics at the heart of painting.
This plastic color theory is also at work in Not Yet Titled, 2015, a collage of largemouth bass, great white sharks, and rainbow trout made from vinyl t-shirt graphics in a Hokusai-esque storm. In both of these works Sammak appropriates a vulgar masculine pageantry of large fish catching to create an arguably still vulgar but other kind of pageantry altogether. Again, foreground and background dissolve together to create movement as well as depth in areas and flattening in others.
Sammak's use of camouflage and masking serves also to hide innuendo, identity and ennui in plain sight – the method of concealment is also a paradoxical means of revelation.
Hey, You're Part of It takes its name from the 2002 song by Piebald. In the song, the narrator "walks the streets of a Carolina / Watching people pushing shopping carts / And there's a guy above me / And he's washing windows / Making ten bucks a pop / And he says to me ... HEY! You're part of it."