Doreen Garner
Art Basel, Statements, Basel, CH
June 14 - 17, 2018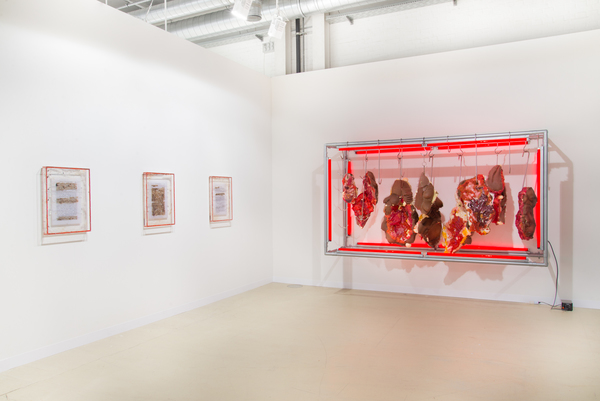 JTT is pleased to present an installation by Doreen Garner which consists of a large rack designed by the artist specifically for Art Basel. Hanging from hooks within the rack are silicon body parts such as arms, mouths, breasts and legs dismembered and sewn together, illuminated by harsh florescent lights.
Garner's sculptural and performance work engages with the history of medical experimentation on black women's bodies in America. She refuses to relegate this history into the harmless annals of the past, and focuses instead on the fetishizing of the black female body that exists still today.
Pages from the medical journal of a certain Dr. J. Marion Sims line the walls. Sims was an American physician and a pioneer of gynecological surgery. His most significant work was to develop a technique for the repair of vesicovaginal fistula, a severe complication often caused by childbirth that cut off blood flow and eventually lead to ruptures in the vesicovaginal wall. Sims developed a technique to suture this tissue by experimenting on enslaved women to whom he refused to administer anesthesia, claiming that black women had a higher tolerance for pain.