Art Basel, Statements, Basel, CH
June 17 - 21, 2015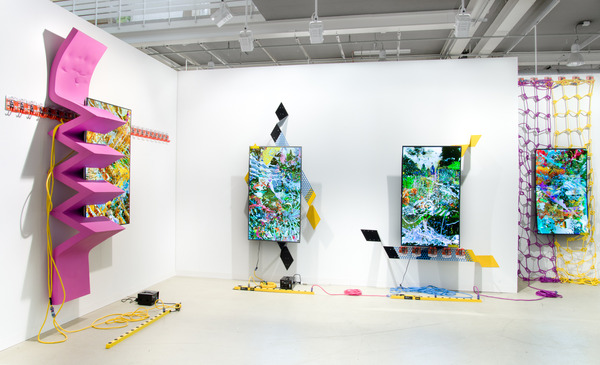 For Art Basel Statements 2015 JTT is proud to present four television installations by Borna Sammak (b. 1986, Philadelphia, PA, USA).
Each installation features a unique video painting by the artist approximately fifteen to ninety seconds in length. The brief videos are comprised of isolated fragments from nature videos, commercials, animations and films layered on top of one another compressing hours of footage into brief 15 second variations. If composition with regards to painting involves moving the eye around and within the frame of the canvas, Sammak considers time another variable in the equation of form, that not only the perimeter of the frame but also the length of the video is a compositional limit.
One television is suspended by an extension cord cargo net, one is pinched in place by dry wall mounts, another hoisted up by a bright pink rubber form that the TV appears to have lodged itself into—none are touching the walls. If the quality of the videos shows the televisions in all their graphic glory, their installations at the most taunt the preciousness of their screens, and at the least bring their technological form into a bodily one.
Borna Sammak has had two solo exhibitions with JTT (his first in 2012 and his second in 2014. He has participated in two person and group exhibitions at Oko, Andrea Rosen, The National Gallery of Victoria, Gagosian, Marianne Boesky, Foxy Production, Fjord, Nudashank, American Medium, Charlie Horse Gallery and Utah Museum of Contemporary Art.