Damon Zucconi
Red Roses for a Blue Lady
March 20 - April 17, 2016
Opening reception: Sunday, March 20th from 6 to 8pm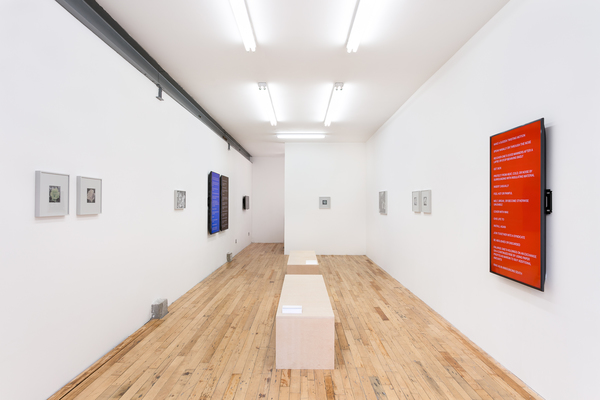 Red Roses for a Blue Lady, Damon Zucconi's second exhibition at JTT, consists of photographic prints, a series of pre-existing books re-published by the artist, four web-accessible works, and a video.
Zucconi has been engaged with the practice of computer programming since 2010, producing works which are typically accessible online. The works assembled utilize vision, literacy, pattern recognition, and meaning to make plain our perceptual experience.
The prints on view, sourced from photographs of roses, are simultaneously full of color when viewed up close and apparently grey when viewed from a distance. An encoding process distributes, but in no way diminishes, the hue of each image into a two by two grid. In a circular process the hue is divided mathematically in 90 degree increments. When one is close to the image, this grid and the distinct hues are distinguishable. As one moves further away, the hue grid functions to neutralize itself, as complimentary colors tend to do. The result of this manipulation is that each rose's color is hidden in plain sight.
Using a program written by the artist, the texts of six pre-existing books are re-published with every word misspelled. Despite these errors, each sentence remains legible. The texts exist in a liminal space of property rights, with the reader of the text becoming an active participant in the reconstruction of the original.
Phonemes are the perceptually distinct units of sound for a given language that distinguish one word from another. In 2013, Zucconi wrote a program, Corrasable, a freely available API to transform text into phonemic streams. In a 2016 video, "Red Roses for a Blue Lady", Paul Anka performs the eponymous pop standard. The audio track is dropped and a synthesized voice performs in its place. The voice, built on top of Corrasable, comprises unshaped, pitched, pure tones, each corresponding to a distinct, individual phoneme remapped to a specific note on a chromatic scale. With a texture-less tongue, the tones play a new melody with a new meaning.
Finally, a series of web-accessible works randomly sample brief definitions omitting the actual term [1]. Most dictionaries are dependent on order, whereas these renounce it. Every new statement that comes on screen is a prompt that takes one elsewhere, in an attempt to locate the term by its meaning. Separated into parts of speech, each operate as models of a specific kind of language: of objects, of actions, of etceteras. Presented in the exhibition are three out of the four: Red (verbs), Blue (nouns), and Black (adjectives). Pink (adverbs) is available online but physically absent from the space.
[1.] The dataset used for these works comes from WordNet: "an on-line lexical reference system whose design is inspired by current psycholinguistic theories of human lexical memory".