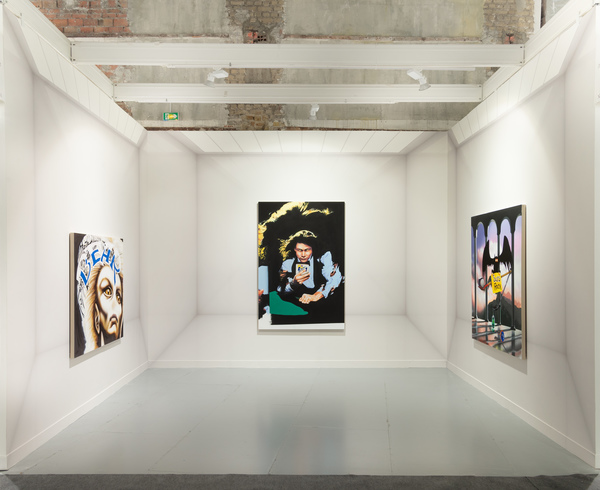 JTT is pleased to present a solo project of new work by New York- based artist Jamian Juliano-Villani. Characterized by a combination of deftly rendered imagery selected from the deep recesses of forgotten culture, Juliano-Villani's compositions are familiar, awkward, and troubling in equal measure. Evoking what theorist Roland Barthes referred to as "the terror of uncertain signs," Juliano-Villani's paintings operate according to an intentional and distinct logic, one that effectively cancels out any narrative read and challenges our notions of manners and taste.
Each painting on view features a menacing entity, such as the dramatically lit illusionist-cum-poker player who holds a roll of toilet paper like a hand of cards in a work titled, "Welcome to My Booth". In another painting, a bat with a glowing eyes carries a sign that reads "Slut's Rock" while perching on a precariously balanced arrangement of household objects with a colonnade and mountainscape in the background. Juliano-Villani cites the sets of the filmmaker Peter Greenaway as an important influence for her compositions, as well as the Swiss author Robert Walser who was known for his ability to seamlessly integrate pulp fiction and so-called high literature. But as most of Juliano-Villani's paintings only feature
one prominent figure, there is also an underlying sense of a self-reflection. Juliano-Villani's paintings seem to suggest that a single individual has enough contradicting complexities and psychological entanglements for a world of confusion.
Jamian Juliano-Villani (b. 1987 Newark, NJ) currently lives and works in Brooklyn. Recent solo exhibitions include "Let's Kill Nicole," at Massimo De Carlo in London, "Ten Pound Hand" at JTT, New York, "Sincerely, Tony" at Massimo De Carlo, Milan, "The World's Greatest Planet on Earth" at Studio Voltaire, London "Nudge the Judge" at Tanya Leighton in Berlin, and "Detroit Affinities" at the Museum of Contemporary Art, Detroit. Her work has recently been included in group shows at the Kunsthal Rotterdam, MAXXI Museum in Rome, the Hammer in Los Angeles, Brooklyn Museum, Whitney Museum of American Art, Jewish Museum, and MoMA PS1, all in New York.