Dan Herschlein
Safe As Houses
March 3 - April 9, 2017
Opening Friday, March 3rd from 7 to 9pm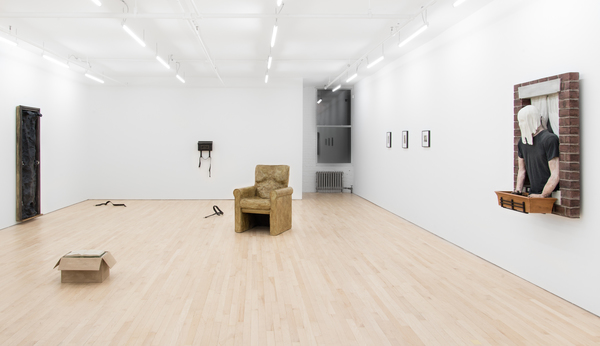 "In essence, the house is a giant battery, the residual energy of which must inevitably be tapped by those who enter it."
— Dr. Lionel Barrett (in John Hough's The Legend of Hell House, 1973)
JTT is pleased to present Safe As Houses, Dan Herschlein's second solo show with the gallery. The exhibition presents low-relief wall works, sculptures, and works on paper that depict altered versions of objects and furniture found in the American home. These unnerving constructions invert the myth of the home as a symbol of physical comfort and emotional security and recast it as a site for the psychological transfer of trauma.
Herschlein constructed the work in the show by hand using simple building materials such as plywood, pigmented joint compound, paint, and wax. Rendered in meticulous detail, the architectural elements have a sense of being smoothed over—touched. The figures are made with the same materials and method, but to a different effect; their flesh appears to be in a state of change, if not decay.
The scoured arms of Now I'm Someone You Can See Through, are evidence of this effect. In this piece, a male figure emerges from a window with his fists clenched and buried in the soil of the window box in front of him. From behind his head, a hand pushes him further over the ledge. A piece of white curtain covers his face, conjuring the enshrouded faces of René Magritte's The Lovers. Magritte, as a young man, witnessed the body of his mother being fished from the water after she committed suicide. The trauma of seeing her wet nightgown wrapped around her face is said to have inspired Magritte's well-known paintings of subjects with obscured faces. Here, Herschlein follows a similar dream logic, positing that the act of producing an image or a series of images has the ability to undo events and to restore a sense of agency.
A work titled Answer If You Can, is a near replica of Herschlein's bathroom sink. Through the drain in the sink one can see the top of a man's head emerging from a sculpted pool of water. A significant influence for this piece is the Stephen King's 1986 horror novel IT, in which the voice of Pennywise the Clown taunts Beverly Marsh from the drain of her parents' bathroom sink. Answer If You Can, like Beverly Marsh's sink, is corrupted by a presence within, signaling architecture's ability to revive a memory or a trauma that is assumed to be forgotten. The voyeur plays a part in this absurdist Étant donnés-esque horror narrative where obsessive contemplation leads to the absolute certainty of a drain's ability to both swallow up the filth that has been washed away and, at the most unexpected time, to regurgitate it.
In the wall work 'We Found A Piece Of Your Mouth On The Ground,' he said., a headless figure stands outside of a window wearing a shirt that once belonged to Herschlein. The figure's arms reach in through the window and in the palms of his extended hands he offers a mouth—a cast of Herschlein's own. As a child Herschlein was attacked by a neighborhood dog who bit off half of his top lip. The work rewrites the horrific moment in which he realized that this part of his mouth had been ingested by the dog. In this equally macabre version, a specter has found and returned it.
This depiction of the dismembered self persists throughout Herschlein's work, generating a sense of disembodiment and focused self-reflection. Equal parts horrific, consoling, and redemptive, the works on view manifest themselves as a means of coping with trauma, whether deep enough to define one's identity, as minimal as to linger as a nervous tic, or any of the in-between that can't be washed away.